Customer photos of Cannons made using our cannon wheels
Holly Lake Ranch, TX 75765
Tel: 903-725-0576 |
sales@rptrading.biz
Chuck Wallace, with the "South Carolina Company of Historical Re-Enactors", ("http://www.schr.org ") was kind enough to provide this picture of a project that they used our stock cannon wheels for. Below is some information from them. Pay their site a visit... Thanks much Chuck.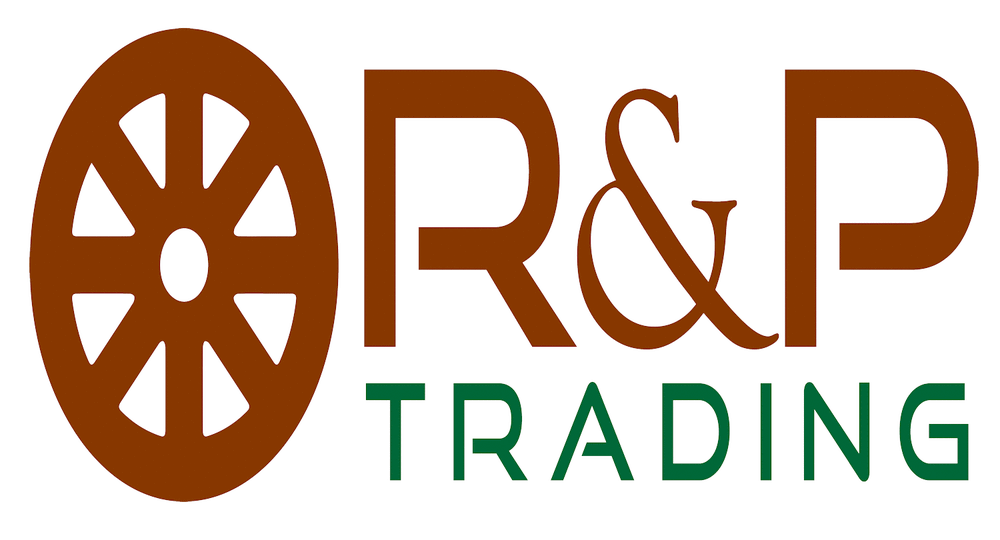 Our cannons wheels are used for landscaping, yard art and as decorative pieces outside the house.
Photo below are from Charles Federle of Louisiana. This is essentially a 1/2 scale - using our stock 30" Cannon Wheels swivel type. He used our 30" cannon wheels.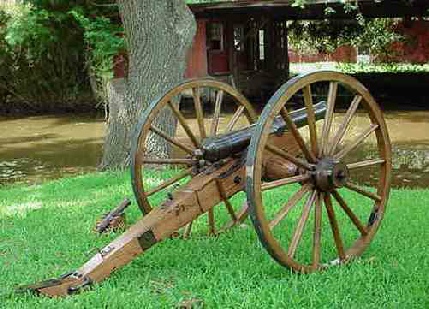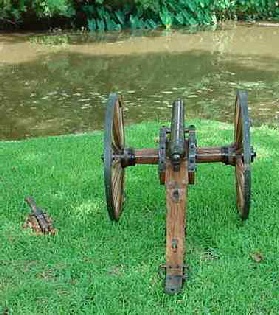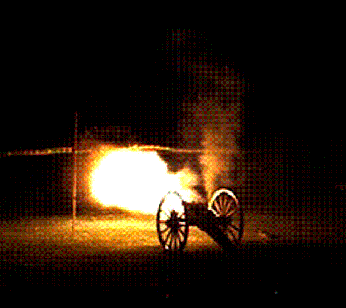 Tom Fink, of Missouri, builds functional cannons for sale using our cannon wheels, and provided the shots below of a cannon he sold on EBAY.

It is a half scale cannon with our 30" cannon wheels.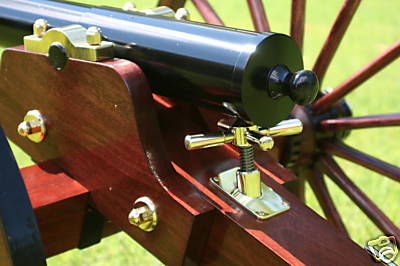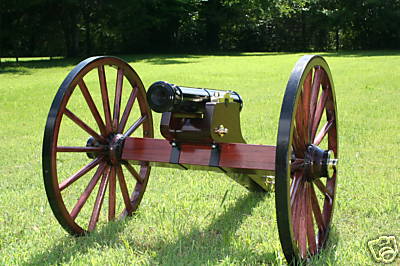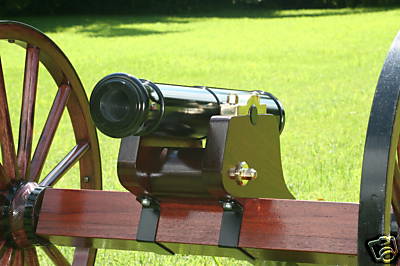 " Hi Folks, here are the wheels that I ordered from you after mounting them on a carriage. They look great. The fit and finish were as good as any I have ever seen. All we have done is oil them with linseed oil. We will use several more coats and then seal them."


"You may use the photo on your web site if you wish. The barrel is a 3 punder and it and the carriage are Rev. War. We will use them in re-enactments and at ceremories at various historic sites."

"We also put on living history days for various elementary schools and student groups."

"We re-enact the 4th South Carolina Regiment here in South Caroline. We also do Marion's Militia and will use the new gun while re-creating that unit as well. The new carriage will greatly enhance our rev. war inpression."

"Thanks, Chuck Wallace"
Bob Groth of Maryland provided pick of hit project that he used our custom 16" cannon wheels with a 1.25" rim width, with proportionate dish, for. You will see he used his carriage for his Nepolean barrel as well as a gatling gun. Spec's on cannon below. 16" cannon wheels. NAPOLEAN: Barrel 24" long, and 3.25" in diameter; Axle is 22.75"long and .875" diameter. The wooden hubs on the 16" wheels were 3.75 wide and 2" narrow end diameter with 7/8" hub hole per his request. Weight of barrel, carriage and fittings 55 pounds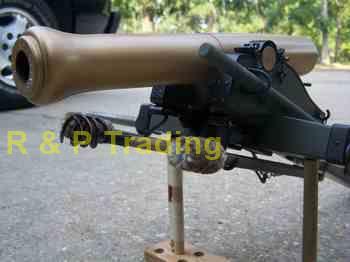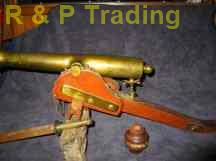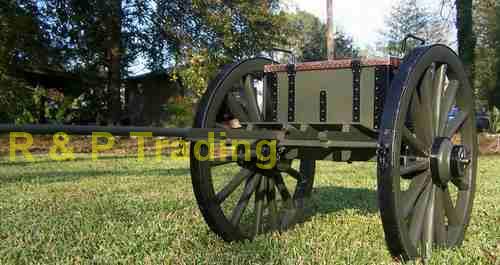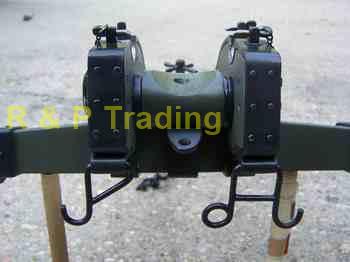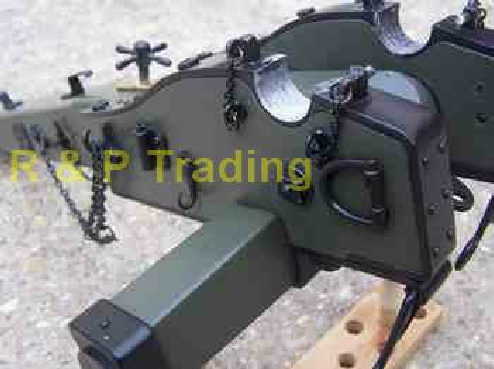 This cannon was built by Trey Norton of Brookhaven Ms. Scratch built + - 1 / 3.5 scale #1 cannon carriage and limber. Fully functional. Carriage trail, cheeks and axle box are of laminate wood. Limber frame is mohogany with ply ammunition box. All metal parts are of brass, copper or steel. 15" cannon wheels from R&P trading. Eight months build time.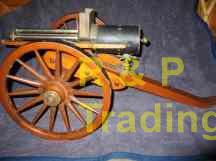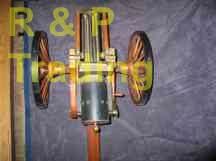 Pictures right below provided by Bob Packard, of Chester, NH, who used our 30" cannon wheels on this cannon.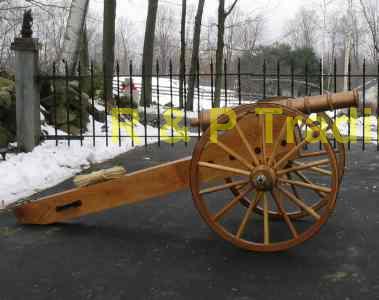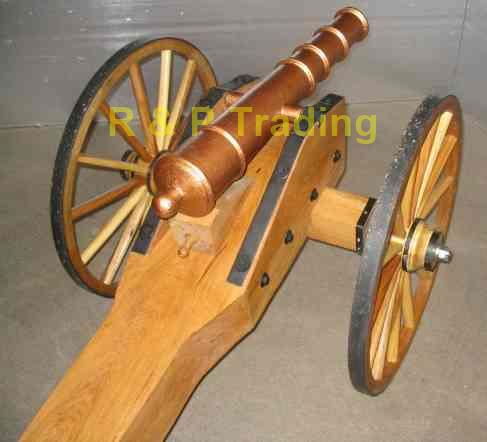 Jules Martino, of Silverton OR. has fabricated several cannons and limbers from our cannon wheels and these are additional photographs of some of them.
The pictures below are of the same cannon as just above with the exception that the customer at a later time ordered additonal cannon wheels to fabricate the Limber"/"Caisson" attached to the cannon.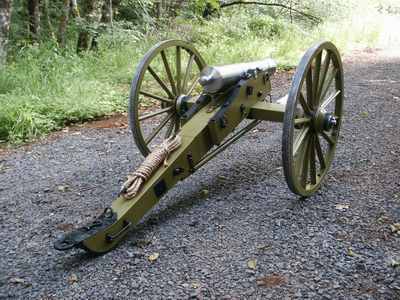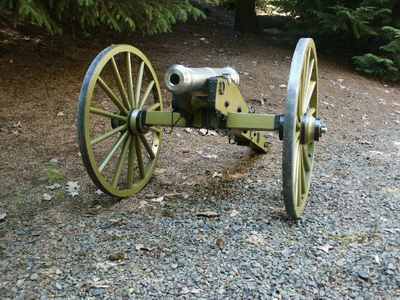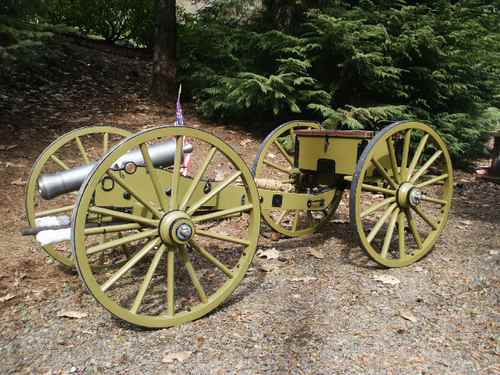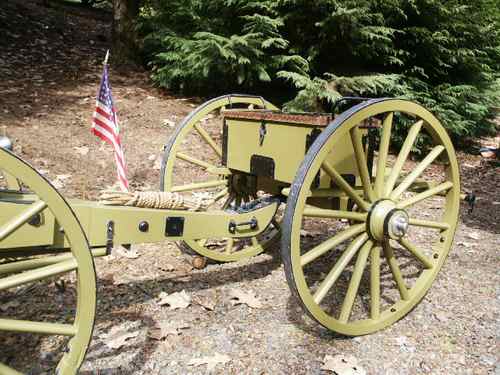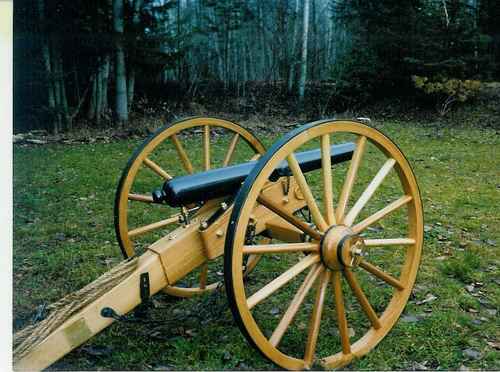 This cannon, made with our stock cannon wheels, was provided by a customer who neglected to give us his name.... We do appreciate the pics.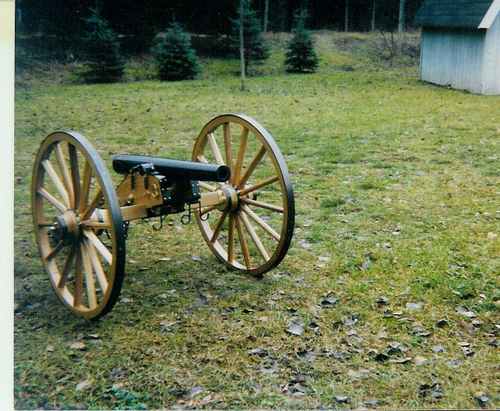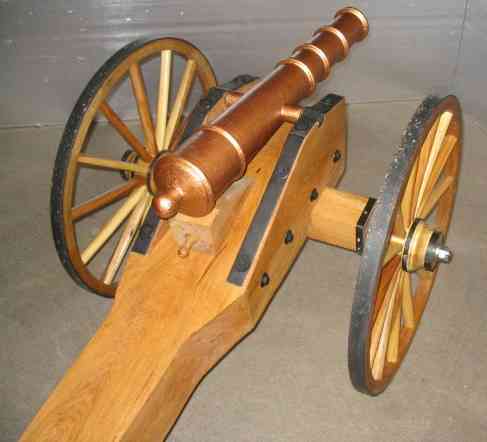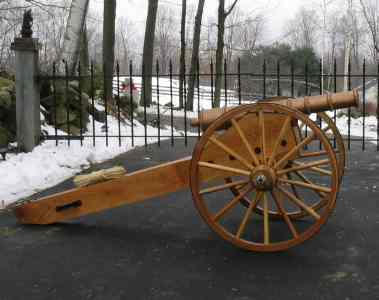 Pictures right below provided by Bob Packard, of Chester, NH, who used our 30" cannon wheels on this cannon.