- Stage Props -
Ever product that we carry can be used by theater groups as stage props. Actually; we have sold our wooden wagons, (such as the Hitch Wagon, and Peddlers Cart), to theaters for use in their productions.

Our heavy duty, 2 inch rims wooden hub wagon wheels were used in the making of the TV show "The Whiz", as well.


- Movie and Film Productions -

Our wooden buckets, wooden hay forks, and wagon, and cannon wheels have been used in movies such as the "The Alamo" as well as lesser known productions

Our wooden hay forks are used in TV productions by film companies


- Merchandising Displays and
Fixtures -

Frequently; our wagon wheels have been ordered in quantity for the making of fixtures.

Smaller retail stores use our different wooden wagons to merchandise products such as our hitch wagon, buckboard wagon, and peddlers cart.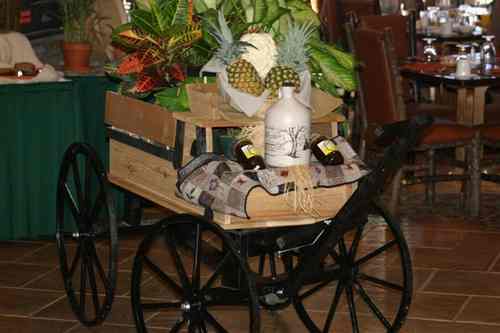 - Theme Resturaunts, Parks, and Living Museums -

Numerous establishments such as Dolly Parton's "Pirate Voyage uses our functional Oak water buckets in their productions. Silver Dollar City in Branson, MO Has used a verity of our products in their productions, as has Six Flags, Disneyland, and the like.